Fran Glendining, voices
Roland Clare, lead and bass guitars, organ, pianos
Peter Clare, trumpets, drums

RC: This arrangement hopes to bring out the heartfelt dimension to Matthew Fisher's excellent text, which pits a hurt and pleading protagonist against a stonily indifferent lover. 'I know you don't care' is the heart of the lyric and I hope I can be forgiven for recycling these words at the end of the track, and in confecting a middle-eight for it. This just fell under my hands when I first sat at the piano to play Can't You Feel my Love in compound time (I'd been listening to Janis Joplin, not that there's any audible trace of that in the present recording): I think it fits OK.

It was a great pleasure for Peter and me to put together an instrumental track which, we hope, showcases Franny's emotional and vocal range to the full.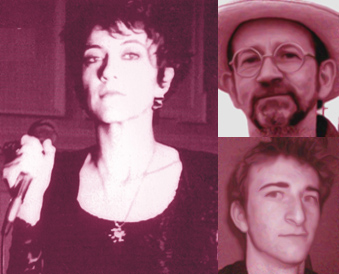 Piano: Roland RD600
Organ and Wurlitzer: Nord Electro II
Bass guitar: Aria Pro IIe
Guitar: Gibson SG copy by 'Gilson'
Trumpets: Yamaha YTR-4335G
Microphone: Sennheiser 421
Drums: Roland TD6 (one stick used in 1968 by BJ Wilson,
Grande Ballroom, Detroit)
Band track recorded in Bristol using Cakewalk / Melodyne / Adobe Audition on a domestic PC – all audio, no MIDI
All voices added at Honeysuckle Cottage in remotest Norfolk
with an AKG C1000 S