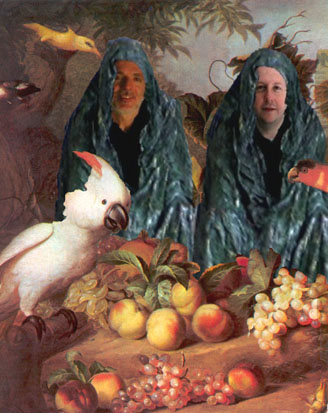 Two o'Cloaks, courtesy of a hollow statue in Salzburg
ACB: Alberto wrote down almost the whole story: so please read his words (incidentally: four or five words that I sing mark my personal rendition of certain Keith Reid lines).

AG: It's not easy for me to explain what kind of pleasure is playing Procol Harum's songs with ACB. Believe or not, the very first PH song I listened to was sung by Antonio playing with his very first band: Fuochi Fatui (Will-o'-the-Wisps).

I tried to rearrange a New Lamps for Old unplugged version, with a plain classical guitar, in metronomic time and a nearly mystical mood. Basic guitars were recorded on Saturday 1 October 2005 in the MD's room of 'La Cittadella Sociale' in Pieve del Cairo (private hospital in Pavia, Italy). The intro and outro are short original compositions, keeping in mind a peculiar chord progression. And in-the-end slide guitar was performed using a little aperitif full frozen glass bottle (sorry, I misplaced the bottle-neck at recording session time ...).

Vocal track was recorded Saturday 22 October in one take in Pavia: we were in my home's living room, and I think it was our most expensive session, 'cause we had to send children and wives to shopping centre to avoid external noises during the recording. All was simple, inspired and immediate, under a common wing of love for PH music. Hope you'll enjoy ... like we did!