Klaus Tschirner, voice, piano and drums (simultaneously)

Photo, right, taken 13 August 2005 during a park performance at Mannheim, Germany.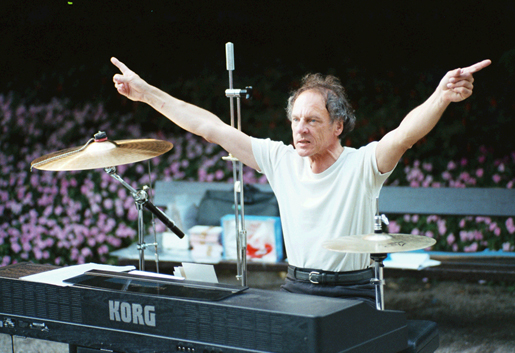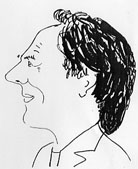 KT: What's so important to me (and what I'm a little bit proud of, I confess) is that I perform as a one-man band, never using sequencers, semi-playback, rhythm machines and so on. Unfortunately I don't have a 'great' voice, but I really perform simultaneously what you hear: the piano patterns, and the singing, while my feet touch the bass drum and a hi-hat. Thus, playing music in a somewhat artistic way like a street musician, I usually perform my songs in clubs and in private homes for an audience of fifty up to a hundred people – very often even without using a microphone. When I perform for a greater audience I use a head-set microphone for the voice.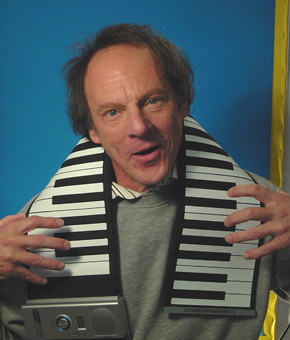 You can imagine that my eyes (that is, the head) sometimes turn towards the keys while singing, when my hands are moving very quickly or when suddenly are placed in another area of that 88 keys' landscape of 'ebony and ivory'.
A special audience with a remarkable wide range concerning age, likes this minimalistic, 'honest' kind of music where they always see what they hear (reminds me of the WYSIWYG principle in the computing world). Sometimes people tell me they are fascinated by the courage to adapt songs that we know being perfectly arranged as full sound, 'bombastic rock' pieces. When I play quite alone what originally was recorded by at least five excellent musicians or even a symphonic orchestra they get aware how fascinating the composition itself is – its tune, the chords, the key words of the lyrics, and then in a simplified way all these elements put together ... reduction that shows essentials.
Homburg is not only an example for great symphonic rock arousing vivid emotions in people's heads and hearts. It's also an example for a great melody, based on interesting chords, that may as well be performed in a simple, 'minimal' way just to show its primary qualities.
Recorded June 2003 at Tidal Wave Studio in Karlsruhe, Germany. The equipment at this time: KORG digital piano Concert C 55 from 1993, a Pearl hi-hat with two 14" Paiste
cymbals, a bass drum ('Duke') from a children's drum kit, and different microphones for recording the singing, the hi-hat and the drum. Sound engineer: Patrick Damiani