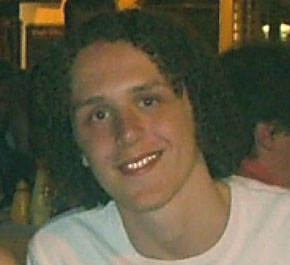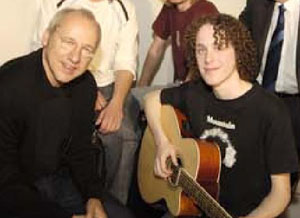 Jack Briggs, voice, guitars, flute, bass guitar, programmed percussion
JB: I originally liked the idea of doing Whisky Train, as I knew it well from Leslie West's cover of it on his album Dodgin' The Dirt (highly recommended). But I was soon informed that this had already been done (magnificently may I add) by Dave Steffen.
Roland suggested that perhaps I should look at a Robin Trower solo track, and Carmen stood out as the one with great potential for manipulation. After an appalling first recording, done with great difficulties due to my resistance to purchasing any official software, and using only a demo which added random 'bongs' into my final creation, another version had to be done.
A second version, with added flute and guitar parts, finally met my approval, yet this too had to be altered due to volume problems, this time due to my friend's official 25 quid home studio. But thanks to the multitalented mixer/official software owner/general know-it-all Mick Stevenson doing all of the hard bits, such as the mixing, cleaning, formatting, cutting, copying, etc, while I just played my guitars and ate his food, Carmen was finally finished (thanks to Molly the cat for keeping quiet too).
I like to think that it is sort of an early Sabbath meets early Mountain meets late 70s Jethro Tull kind of version, but what do I know? Thanks to Roland for encouraging me to do this, and for being the most patient man on the planet!
Gibson Les Paul Studio Coppertop w/ebony fretboard
Fender Mex 50s Reissue Strat
Highly 'modded' Steinberger GU-7R w/Dimarzios
Very old/battered Peavey Classic 50


Boosey & Hawkes Emperor Flute
Boss Digital Delay (DD5) Dunlop Crybaby
Yamaha Bass (unknown model)
Park Bass Amplifier
Roland E-28 synth for percussion sounds
Cheap karaoke microphone
N-Track Studio (demo and official version!)
Clean Editing Software
Low-end Common-or-Garden PC: I am but a simple
(poor) chap!