RM:

San Francisco's only rock band, LaRue was a three-man, singer-songwriter team composed of Bob Banks (vocals / words), Robert Moselle (keyboards), and Danny Sego (guitar).

LaRue: a singer-songwriter trio backed by numerous talented and often legendary local musicians during the band's trail-blazing history. Smug? Yes. Arrogant? Yes. Know all the words to In Held 'Twas in I? Yes. Kick your f*ckin' ass? Affirmative.

Backing up LaRue on this audience-bootleg recording, of their 16 May 1977 concert at San Francisco's Mabuhay Gardens nightclub, were Brad Wilson (lead guitar), Mark McNulty (drums) and 'The Monster' George 'Guts' Gearhardt (bass), a massive 6'6" Budweiser-drinking, blue- collar, lunch-pail bassist whose onstage persona struck fear into the audience.

Sandwiched in between the days of disco and punk, LaRue was very well-known throughout the Northern California area. You simply needed to look out the window while driving through San Francisco to see the graffito, 'LaRue Rocks', painted on many a wall, or turn on KSAN where the band might be chatting with the DJs and where LaRue's first single, Clowns, rocked the Bay Area's airwaves.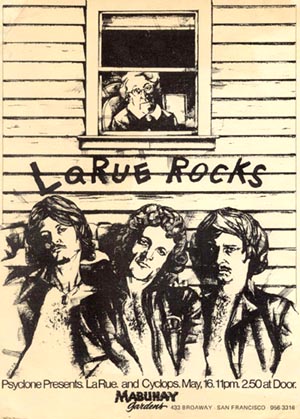 Danny Sego played an Ampeg Dan Armstrong (Lucite guitar), and a Marshall half-stack for clubs. Keyboards: RMI, with Acoustic amp and Ampeg cabinet.
The name LaRue means 'the street', 'the path', 'the way', as in: "You must follow LaRue, if you are to know 'the way'."