[Left to right]


Marcel Adjibi –
cajón

Jorge Mijangos –
acoustic rhythm guitar, maracas, shaker

Rick Moors –
bass

Gary Johnson –
organ, piano, rainstick

Libby Harding –
lead vocal, Venezuelan cuatro, zampoñas

Cindy Harding –
flutes, zampoñas, harmony vocal

And featuring


Ciro Hurtado –
acoustic lead guitars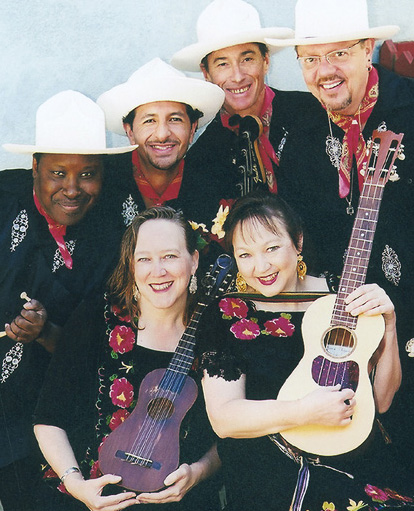 GJ:

I had made idle talk about doing a 'Latin Americanized' version of Conquistador for years. Then I made the mistake of mentioning this to Roland, and he made me actually do it: so it's all his fault.

This is just a little thank-you note to Messrs. Brooker, Reid, Fisher et al. for their work, which has provided me with a lifetime of inspiration and enjoyment.

Spanish words by Jorge Mijangos, Sonia Kroth and Libby Harding
Conquistador hay un condor
Sobre tu escudo plateado
Ya hecho raíz en tu espada
La arena que la ha penetrado
Y aunque tu espada de joyas
No ha sido derrotada
Aun así el mar, tu cara
De lleno, ha deslavado

Y aunque esperaba algo encontrar
No hay laberinto que desenredar
The Venezuelan cuatro played by Libby is a small strummed 4-string guitar used in the music of the llano, or high plains, of Venezuela (not to be confused with Puerto Rican cuatro, which has 8 steel strings.) See

a note on the instruments shown in the picture above, which are not exactly as heard on the track.

Zampoñas are the panpipes used in Andean music. Though proficient on many Latin American flutes including quena, for these parts Cindy played her silver flute.

The Leslie was a nice rental 122, as Gary's old 147 emerged from a long hibernation in the garage wheezing, moaning and buzzing: he determined it wouldn't be useful without a thorough overhaul. A rental B3 literally would not fit through the studio door, so he used his Roland VK-7 organ; the piano is his Kurzweil PC-88.
Jorge used his nylon-string Takamine Hirade EH-90, and rawhide maracas from Venezuela.
Ciro did double duty as engineer and lead guitarist. He played his 1989 Pedro Maldonado (Malaga, Spain).
Rick generally records with his old Fender Precision bass, but for this track he used his Music Man 5-string; the low string was helpful since Conquistador had been transposed to C minor to accommodate Libby's range.
Marcel played a Mijangos cajón, constructed by Jorge: the cajón is the wooden box drum developed by black slaves in the Americas.
Produced and arranged by Gary Johnson; associate producer Libby Harding
Recorded by Ciro Hurtado at Yacumama Studios, Hollywood, California
Mixed by Larry Hirsch at Ned's, Mar Vista, California. Read

a note about the instruments in the picture
Visit Conjunto Jardín's website : related projects here and here