[Left to right]:

Marcel Adjibi – cajón; Jorge Mijangos – acoustic rhythm guitar, maracas, shaker
Rick Moors – bass; Gary Johnson – organ, piano, rainstick
Libby Harding – lead vocal, Venezuelan cuatro, zampoñas; Cindy Harding – flutes, zampoñas, harmony vocal
Lest our photograph should confuse people, we should explain that Libby is holding her jarana and Cindy her requinto – not the instruments that are played on

the Conjunto Jardín track. People do have a tendency to get muddled with these little Latin American guitars, so this note is to pre-empt any further confusion.

Libby and Cindy are pictured with jarana and requinto, respectively, their principal instruments in Conjunto Jardín (whose primary repertoire is actually not Procol Harum covers, but rather the music of Veracruz, Mexico).

The rhythm and instrumentation on Conquistador is actually closer to a Venezuelan joropo than to Veracruz style – though the genres have similarities, particularly the characteristic driving 6/8 rhythms propelled by strummed guitar-like instruments. But rather than jaranas of various sizes doing the strumming, Venezuelan llanero music (from the high plains, or llano) uses the Venezuelan cuatro and sometimes a guitar.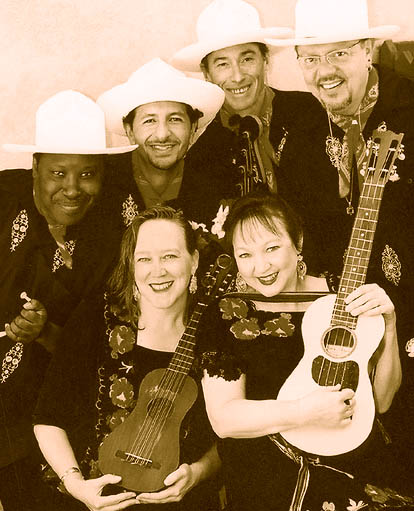 Put on the headphones as you listen to Conquistador and you'll hear Libby's cuatro far right (higher pitched) and Jorge's rhythm guitar far left (lower pitched), the only two instruments hard-panned. Likewise Ciro's guitar style would never be heard in jarocho music – the lead guitar lines in jarocho are played on the requinto jarocho (pictured), a small four-string guitar played with a cow-horn pua or pick, usually all in down-strokes, for a very aggressive, percussive sound – but it certainly would not be out of place in Venezuelan music. Joropos also often use maracas (the Venezuelan maraca tradition is perhaps the most virtuosic in the world, but they are never used in jarocho) and flute.
As to why Conjunto Jardín did it this way instead of with jarocho instrumentation? It just worked better, and the band are well-versed in many different Latin American folkloric styles, especially Libby, Cindy and Jorge.