Gilles Snowcat – voice, keys, electronics (programming), guitar
Sophie de York – harmony voice
Zou de York – electronics (audio)
Greg Revel – electronics (audio)
GS:

more than a band, Awaken is a kind of 'musical laboratory' that started spreading the disease around 1988. With only two official albums in 15 years, it can be considered as the laziest band on Universe, if you consider that even Peter Gabriel found a way to work faster ... Though based in Brussels, Awaken is working with musicians from many horizons like England, Japan, Australia, France and more.

Awaken's line-up changes would make Yes and King Crimson look like unbreakable groups of forever-friends, and no one ever could define precisely their music, somewhere between electro pop, melodic hard rock, melancholic autumnal progressive rock or disco experiments. Alongside its original pieces of music, the band likes to cover various kind of songs (if you are dying to know which ones, please jump on

our web site): among them was Matthew Fisher's Something I Should Have Known (recorded for the concept-album The Party In Lyceum's Toilets in 2001).

A brand new version, completely different from the album, has been recorded especially for this project. For time and geographic reasons, this is a lo-fi interpretation of Fisher's dark and mysterious song. This little self-centered biography wouldn't be complete without a big thank-you to Roland (great patience toward unstable musicians!), to Greg Revel from French band

Sousbock, to Procol Harum for the 1972 superb live album with orchestra and to Matthew Fisher.

Oh, sounds like award ceremony. Gosh! Time to go, so ...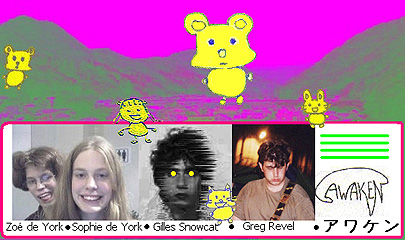 1988-1995: plenty of (un)official demo tapes

1996: Tales Of Acid Ice Cream (CD AWALP001)

1997-2000: Plenty of demo tapes, contribution to Al Stewart's Tribute Albums.

2001: Party In Lyceum's Toilets (CD AWALP002)

2002: Many new songs online on mp3, work with Japanese model-actress-singer Miyu (see

our website).
Drawbar organ
Nekotron / Awatron (Atari computer + digital synthesizer + some bugs)
Fender guitar (pretending to be R Blackmore in front of an obliging mirror)
Cheap and dirty microphone
Some PC high-tech audio systems
A chair