Stephen 'Doc' Wallace – vox
Roland Clare – guitars, bass guitar, electric piano
Peter Clare – drums
Jane Clare – backing voices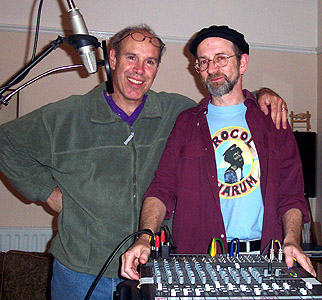 RC:

at school I had a band that played this number in an arrangement using clarinet as the lead instrument; 33 years later, canoeing down the Gorges du Tarn in France, I caught myself singing it with a shifted rhythmical emphasis, and the present track is an attempt to reproduce that mental version.

The voice singing in my head had sounded like the singer from the Australian band Flash and the Pan, so I was lucky to be able to record a genuine Antipodean vocalist!
The bass guitar is an Aria Pro II, guitar a 'Gilson' SG copy, piano the Roland RD600. vocal mic: Rode NT1; vocal processing: Behringer suite comprising Virtualiser Pro, Autocom Pro 1400, DBX 119 compression. Mixer: Phonic MM1805X. Recorded on Cakewalk and domestic PCs – all audio, no MIDI.
Peter is playing the TD6 drums with one stick of his own, and one stick used by BJ Wilson at a 1968 gig at the Grande Ballroom, Detroit