Richard Amey – guitars
Simon Payne – bass
Gary Peters – vocal, acoustic guitar
Lucy Hughes – clarinet
Joshua Simpson – percussion
Nigel Ratcliffe – piano
Val Powell – keyboard
To book Outcry, click on the name; you can also contact Richard Amey in the UK on (0)1903 282370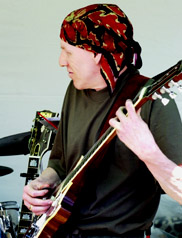 RA:

Outcry is a band formed in late 2000 – by Procol Harum fans Nigel Ratcliffe and Richard Amey – especially to raise awareness about homelessness and to support the Worthing Churches Homeless Projects charity by playing serious, quality songs that perform this function, along with other lighter, popular material chosen to encourage audiences to look out for one another and generate a more compassionate society.

The band thereby entertain, motivate people to become new charity volunteers, and raise money along the way, as well as performing at specifically fund-raising events. Learn To Fly often closes the set and its function is a call to action. Outcry also incorporate anti-war songs Holding On (Procol Harum) and Army Dreamers (Kate Bush).
Guitar: Kawai KS12XL with Mighty Mite Vintage humbucking pickups, Traynor Guitar Mate Reverb combo valve amp, Korg A5 FX unit, Arion Octave Divider, Ibanez Phaser.
Drums: various, with Zildjian cymbals
Synth: Korg X5D
Bass: Collection, with Harke amp and Whirlwind cables.
Piano: Yamaha Clavinova PfP100 (1994)
Clarinet: Buffet E13
Steve Hawkins (sound): in his third year of a four-year HND course in sound production at Northbrook College, Worthing.