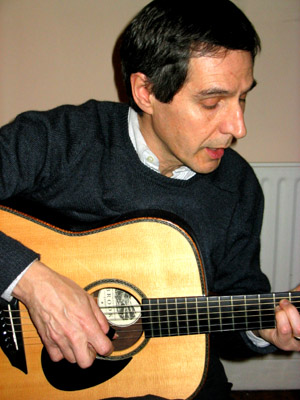 Colin Sillence – voice and guitar
Roland Clare – bass guitar, whistles, bodhran
RC:

Colin uses the DADGAD tuning here which, coupled with the unusual chords, gives him some interesting shapes to master.

As with The Pursuit of Happiness, this was a song he learnt without having heard the released version. Colin contributed the start and finish, which owe something to the late Andy Stewart and his 1961 hit, The Scottish Soldier.

The skirling backing arrangement of this abandoned Procol sketch may owe something to my Scots ancestry.
Guitar: Teign, by

Brook Guitars
The bass guitar is an Aria Pro II
'Tin' whistles in C, D, F and G
Sopranino recorder by Aulos
Mics: vocal and guitar recorded with Rode NT2; other instruments with Sennheiser 421
Bodhran: generic!