Gunnar Stedje – Hammond C3, keyboards, arrangement

Jorunn Stedje – second voice

Kåre Asbjørn Byrknes – bass, guitars, lead vocals, chorus singing, drums

Harlequin

was recorded and mixed in November 2002 at the basement studio of Kåre Asbjørn, who arranged and programmed the drums after listening to BJ Wilson playing on the Hollies recording of Harlequin, which also features Gary Brooker.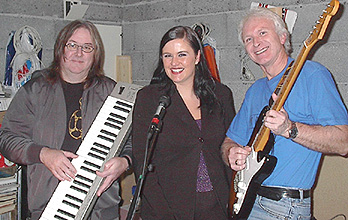 Organ: Hammond C3 with two Leslie 147s
Keyboards: Korg 01/WFD synth, Roland JV-1080 sound module
Bass: Charvel Jackson Bass through a Trace Elliot amp
Guitars: Fender Stratocaster, Marshall Valvestate 100 and Fender Sidekick 35
Drums: Akai MPC2000XL
Guitar: recorded with AKG D3800 dynamic mic
Organ: recorded with two AKG D321 dynamic mics
Lead and harmony vocals: recorded with AKG C535EB condensator microphone
Recorded on an Akai DPS12i hard-disc recorder, mixed on a Ramsa mixer and Mission Monitors. Effects from Yamaha SPX9000.